Welcome to the Flying Monkeys
A social guild for the more mature players
The Flying Monkeys Guild is an Elder Scrolls Online guild for Xbox players who like to play at their own pace and not have the dramas that some guilds have. We have all kinds of players in the guild, PVP, PVE, Crafters, House builders, etc and they come from all over the world 
It is a guild that is on both the Europe and NA Servers, for those ESO Addicts that do play both, however, that is not a requirement of the guild but it is certainly an advantage for those who do play on both.
The true aim of the Flying-Monkeys guild is to provide a nice playing environment where we simply help each other out wherever necessary and with the use of our own social media platform we can keep players on both servers connected and also build up a vast library of game information that will help everyone in both guilds. Well that is the plan anyway…
We do stipulate 25+ as we want the more mature players who are not obsessed with being the best but want to have fun in the game whilst learning how the game works and also helping other guild-mates along the way.
All in all… Flying-Monkeys is more like a big happy family than a gamers guild and we do like to keep it that way., so it is not the ideal guild for drama queens.
There are no commitments placed on any members and certainly no fees, so if you want to be part of what is probably the first duel server guild, simply search for Flying-Monkeys on the guild search or join our Discord channel by clicking the link above.
Coming June 21st 2020. a brand new ESO adventure…
The Legacy of the Bretons
Watch the Elder Scrolls Online 'Gates of Oblivion' Movie..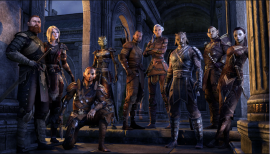 CappyCaineZ Guild Leader xx0wneedxx Officer Monkey Blaster Officer Monkey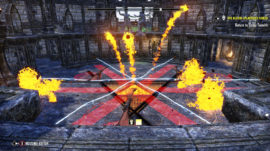 Flying-Monkeys (Europe) The Guild House for Flying-Monkeys (Europe Server) is the Grand Topal Hideaway located in Grathwood and known as Cappy's Island.  As it is CappyCaineZ primary residence it can be  accessed at anytime regardless if Cappy is online or not by simply clicking… Menu – Social – Guilds – Roster and select  CappyCaineZ, then […]